Absolute Twin Sands is a stunning resort with panoramic ocean views, contemporary apartments and first class service, all in a spectacular peninsula setting minutes from Patong on the stunning island of Phuket. Nestled between two perfect white sand beaches, the apartments and penthouses enjoy breath-taking views of the Andaman Sea.
Location – Situated by the sea, this spa resort is 0.6 mi (0.9 km) from Tri Trang Beach and within 3 mi (5 km) of Patong Beach and Bangla Night Street. Banana Walk and Jungceylon XD Theater are also within 3 mi (5 km).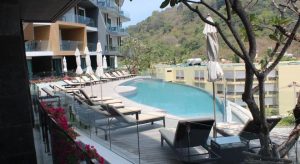 Every suite at Absolute Twin Sands has been finished to the highest standard and offers everything you desire. Every apartment has a fully-equipped kitchen, double shower and private balcony and also boasts the latest in audio-visual entertainment with LCD TV and home theatre sound bar, creating the perfect ambience and setting for an unforgettable holiday.
INSPECTION VISIT
We offer you a personel Inspection Visit of the Twin Sands Property in Phuket. This offer will give you time to see all the amenities the resort has to offer. Property Visits are a way that you may visit a location take in all it has to offer. at the end of the vacations you never know you may have purchased a property.
Would you like to inspect the property before its completed?
Do you want to save money?
ARE YOU THINKING OF INVESTMENT IN PROPERTY IN PHUKET THAILAND?
If you are looking to purchase a property in the beautiful province of Jalisco for maybe an investment, holiday home in Kamala Phuket and the surrounding areas. Dont what to waste money on Flights and Accommodation, then we would suggest a home – property inspection visit for you to view the area. We think at PAH Holdings LTD this viewing trip would be an essential part of your planning process. This offer is asscoation with Absolute Property Group
THAILAND PROPERTY CHOICE ARE HERE TO HELP!
Unlike other companies we do not believe in cheap viewing trips "jolly jaunts"  or  "chain and ball" viewings as they are known within the industry. If you are serious about wanting to buy a property in Kamala Phuket then we believe you should not be penalised with the price you could be potentially paying for your property, by subsidising those people who are just over here for "a few days away" or "to have a look".
Many companies work on the pretence that they will offer free accommodation, free flights and transfers to potential purchasers, with the idea that if some of the visiting clients buy their inflated overpriced houses, these sales will cover the cost of those clients who do not buy.
THERE IS NO SUCH THING AS A "FREE LUNCH"
Be aware that you may end up potentially worse off in the end, with high pressure salesmen who's next pay cheque is based on, if you buy or do not buy one of their inflated priced properties to cover their costs of your visit and an itinerary that ties you to the ball and chain "agent".
PHUKET PROPERTY INSPECTION
PAH Holdings LTD are a real estate company built on traditional family values and we believe your viewing trip to Kamala Phuket, Thailand should be specifically organised for you to take advantage of our vast knowledge of the area and the properties but without the high pressure sales tactics.
OUR OFFER TO YOU
YOU our clients are so important to us! and we are so passionate about our little oasis in the sun that we want to share it with you. We would like to offer you with no ties attached our full range of services, from inland and coastal property sales, pre construction, right through to beachfront lots sales and legal and financial services.
We can help you with preferred rate accommodation, car hire and we are happy to source flights from your chosen airport to Phuket International Airport. If you purchase a property from us while on your Home – Property inspection Visit through PAH Holdings LTD on this visit, we will REFUND you up to 1500$ USD* towards the cost of the property to you as a big thank you for purchasing through our company.
(Please note the accommodation offer is subject to availability and may be limited through July and August) Please remember to book a Home – Property Inspection Visit using the form below which will be sent to our Puerto Vallarta real Estate division to confirm your proposed dates prior to booking your flights.)
HOW DOES THE HOME – PROPERTY INSPECTION VISIT WORK
Contact us with your requirments.
Book a Home – Property inspection visit via our website.
Book and pay for your Flights and Hotel.
Bring the proof of purchase of Flights and Hotel
Purchase a property
Have a refund or discount to the max amount of $1500 USD
[contact_bank form_id=1 show_title=true show_desc=false]